Croatian delicacies: olive oil
This high-quality ingredient will make your ordinary dish fancier, healthier and more delicious!
If you think about the Mediterranean, olive oil is probably one of the first things that are going to pop into your head. No wonder, as over 95% of the olive oil comes from this region. More specifically, there are numerous confirmations that the world's best golden liquid comes from Croatia. Only last year, olive oil from Dalmatia and Istria got 32 gold and 18 silver awards in the New York International Olive Oil Competition, one of the most prestigious olive oil competitions in the world. So, what makes Croatia a hot spot for olive oil production? Let's take a look.
Seven hundred years of tradition
According to Greek mythology, the olive was born when the goddess Athena fought with god Poseidon and threw a drop of water on a cliff — and an olive tree emerged. On a more historically-accurate note, olive oil production in Dalmatia can be traced back to the 4th century BC. There is a document from 1312, the statute of the city of Split, which demands at least six olives to be planted in each vineyard in the town.
Today, there are thousands of olive trees in Croatia. One of the reasons olive farming became substantial in this area is the Mediterranean climate, which is ideal for the growth of olives. Furthermore, coastal temperatures help produce tasty olives rich in antioxidants and unsaturated fatty acids.
Delicious oil is pressed from the fruit that came from the trees that can be several hundred years old. There are olive gardens in Lun, a small village on the island of Pag, full of thousand-year-old olive trees, some of them up to 1600 years old.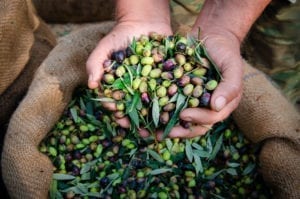 A drop of your finest, please
Many factors impact the taste of olive oil, such as a variety of olive used, soil conditions, the weather during growing season, olive ripeness and the timing of the harvest. These variables can yield dramatic differences in color, aroma and flavor of the final product, so there are several categories like lampante, virgin and extra-virgin olive oil.
The latter is nature's finest, thanks to its extremely low acidity. If you're looking forward to trying out Croatian olive oil, you'll be happy to know that Croatians almost exclusively produce the extra-virgin olive oil. To appreciate its exquisite taste, use it for uncooked dishes such as salads or simply as a dip for freshly baked bread. Generally, olive oil is best paired with foods that are abundant in the Adriatic — we're talking shrimp, octopus, bream and other seafood.
Whichever type of olive oil you choose, you can be sure that you're dealing with a nutritious ingredient. It's an integral part of a healthy diet because it contains powerful properties against aging and several diseases.
Croatia's olive oil has been praised for years, so it's no wonder it became known as a drop of Mediterranean gold that every gourmet wants in their kitchen. If you haven't already, visit the beautiful Dalmatia and enjoy this premium Croatian delicacy!
Share